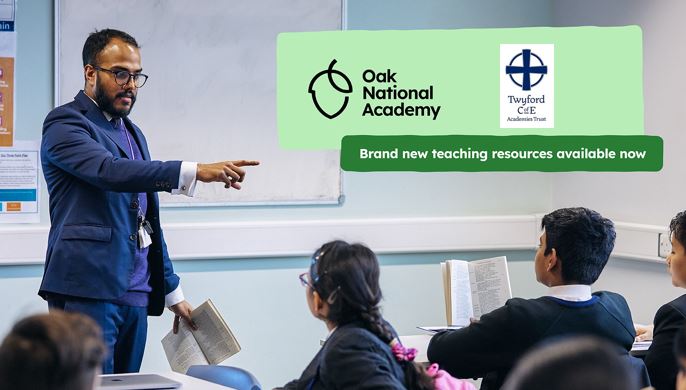 Twyford CofE Academies Trust entered Phase 2 of their partnership with Oak National Academy. Eight English teachers from across the country joined the Trust's first remote curriculum development team ready to embark on creating over 1000 online lesson resources which will be available for use by teachers across the country from later this year. The new team have been eagerly undertaking rigorous training, including a two-day residential hosted by Oak National Academy in Leeds and have just started creating their first lessons.
Senior Project Manager, Sam Barnsley, presented at ResearchEd, alongside Oak's primary English curriculum partners, Fox Federation. Focusing on the transition between KS2 and KS3, the presentation explored how sentence level grammar has been used by Twyford trust schools to create coherence from KS2 to KS4.
Secondary English modules now live
Some of the secondary English modules went live on 12th October on Oak's newly designed platform.
The English content is a rich blend of the classic and contemporary. Texts from the literary canon, including Beowolf, Chaucer and Shakespeare, sit alongside contemporary writers Andrea Levy, award winning author of "Small Island", and Winsome Pinnock, whose play "Leave Taking" has this year been added to the GCSE syllabus. Particular care has been taken to ensure Oak's English curricula represents the diversity of modern life. Over one in four authors in the secondary curriculum are writers of colour. It explores contemporary social issues, including women's rights and immigration, alongside timeless themes such as nature, love and conflict. English also has a specific focus on developing pupils' oracy - their speaking and listening skills
Matt Hood, Chief Executive of Oak National Academy, said: "I'm delighted that our new curriculum resources have gone live and look forward to feedback from schools and teachers. Our independent evaluation shows that seeing and discussing evidence-informed curriculum models is an important part of developing a teacher's curriculum expertise. Having high quality resources alongside them reduces teacher workload, improves happiness and improves retention.
"We have paid particular attention to making sure that the curriculum represents the best of what has been thought, said, discovered, sung and danced. We have selected topics that, when taken together, give pupils a rich understanding of the world and allow them to participate as educated citizens in modern society.
"This has been a truly cross-sector effort. I would like to thank our curriculum partners who have worked tirelessly with Oak to develop these curricula, to the teachers currently making the resources that accompany them and to the wide range of UK publishers for giving schools and pupils access to their rich texts, music and art."
For more information please visit here.